ELEPHANT FLYING SQUAD
"Why do you call them the Flying Squad?" asked my partner. "Because we want them to run fast," replied the elephant mahout. My partner chuckled to himself. Meeting these fantastic elephants was such a privilege. As I stroked their trunks, their gentle eyes watched me with interest. Their skin under my hands felt rough and wrinkled, with creases crusted in dirt. Their trunks moving backward and forwards as they touched me, detecting new scents.
The Asian Elephant has gentle eyes and smaller ears than the African elephant, constantly moving its ears to keep itself cool. Elephants can only see short distances of up to twenty meters, but their site improves once in jungle areas and shade. They do have excellent hearing, sense of smell, and tactile sense.
The Flying Squad of Sumatra is a group of domestic elephants tasked with keeping the wild elephants from entering villages. Regular patrols are conducted, guiding any wild elephants found back into the forest and away from populated areas.
Three thousand hectares of natural forest serves as a buffer for wild elephants to find food and play. They are allowed to stay in this conservancy and are never pushed out. With three thousand hectares of forest, the elephants thrive. The Flying Squads also conduct joint patrols with the Worldwide Fund for Nature and government agencies to cover a wider area.
When local people spot wild elephants close to their village, they let the Flying Squad know. The local people are happy with the Flying Squads' presence and enjoy helping the Flying Squad herd the elephants towards a protected riparian area where elephants like to gather. This method has proven very effective in reducing conflicts. "By doing this, we are saving the elephant's lives as well as protecting the community," said Simon, the Mahout. Patrols are done twice a week around the concession area to monitor the wild elephants' movement.
Adei, a bull elephant, and two female elephants, Aka and Meri, were the first elephants to start the elephant flying squad in 1986. In 1987 Mira, another female elephant, was introduced into the Flying Squad. The biggest is Adei, who was born in 1986 along with females Aka and Meri. Mira is the youngest who was born a year later.
Riau Province became the home to these four adult elephants. Simon, the Mahout since 1994, has cared for them through the Flying Squad program, although the camp was not set up until 2005. "Elephants are sensitive animals," he explains.  "So, I treat them like children. As they tend to suffer from stress, I make sure that they feel comfortable at all times." 
In 1994 private sectors were asked to help in conservation efforts, allowing them to adopt animals close to extinction, including elephants. "Our main purpose and goals are to conserve wildlife," explained the mahout who cares for the elephants at Sebanga Elephant Conservation Centre in Lampung, Sumatra's westernmost province.
In 2005, the Natural Resource Conservation Agency, Teso Nilo National Parks Board, WWF, and other companies in the area, helped set up the Flying Squad. In 2006, a camp for the flying squad was built.
The Flying Squad's elephants consist of Adei, Aka, Meri, and Mira. In 2009 Meri gave birth to a baby girl, Carmen. Two years later, Mira gave birth to a baby boy, Raja Arman. In February 2007, a new member of the Flying Squad, Lisa, gave birth to Nella.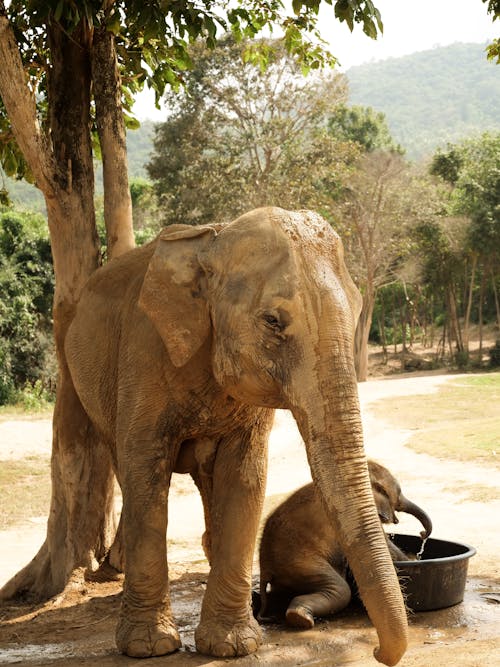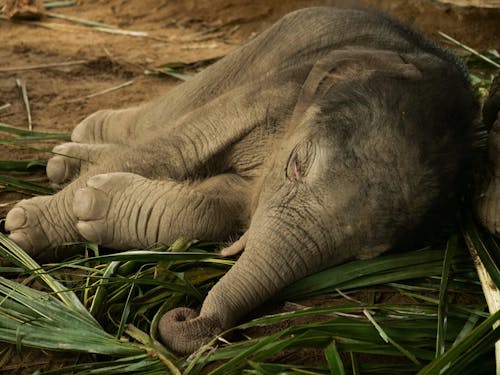 The Indonesian elephant is a beautiful animal, but its numbers are dwindling. There are approximately one hundred found on the island of Sumatra. As their habitats get smaller, they inevitably contact humans, where they can damage crops and property. Now two Elephant Flying Squad teams patrol the forests leading wild elephants away from human settlements.
Simon, the mahout, takes care of the elephants he considers to be a part of his family. For more than a decade, Simon, his wife, three children have called Ukui home, and the six elephants' part of their extended family.  Simon finds elephants really amusing animals,  especially when it comes to playing with them or bathing them.
"Because elephants can suffer from post-traumatic stress disorder, like humans, our responsibility is to take care of them, as well as protecting them from being attacked and injured by other wild elephants. Our constant affection and dedication toward the elephants ensure that they never slip into a critical condition but remain in a healthy state", said Simon.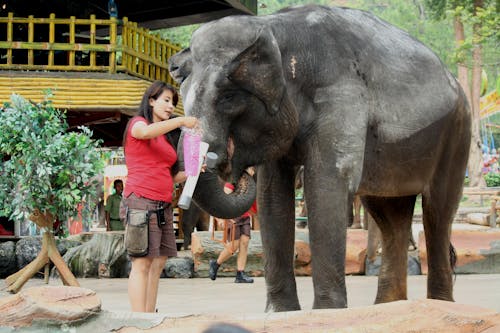 The elephants are cared for by a team of nine mahouts and two veterinarians who conduct regular health checks. The elephants have thrived under their care, bolstering their numbers with baby Meri's birth in 2009 and Raja Arman two years later. There is a strong bond between the mahouts and the elephants.
"Our interaction with the elephants begins in the morning, starting with bathing, feeding, and health check-ups, followed by playing until the afternoon," said Dodi, another mahout. Elephant health has dramatically improved. They receive adequate veterinary care, can move and feed in the forest, are bathed daily. They are fed a regular good diet and are strong and healthy. Each elephant can consume up to four hundred kilograms of food daily, consisting of rattan, tree trunks, breadfruit, watermelon, banana, pineapple, and tomatoes. Once a week, they are also given brown sugar, cassava, corn, bran, and salt to boost their energy.
The flying squad is a great example of how to protect the environment, benefit local communities, and conserve endangered elephants. Besides solving conflicts, the Flying Squad's existence also conserves this critically endangered species, with the Squad successfully welcoming six healthy calves so far.
Across Asia and Africa, the human-elephant conflict has been a problem in the habitat of many elephants. The Flying Squad has proven to be a highly successful model for reducing friction between people and elephants. I hope that with more significant resources, more squads can be established to prevent elephant and human deaths that don't need to happen.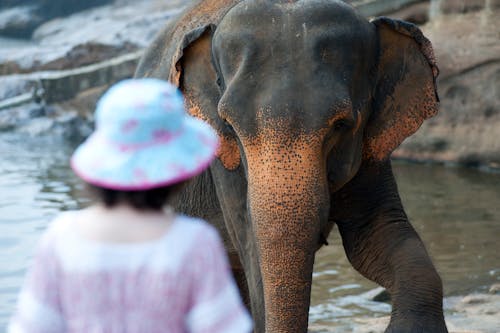 There are many opportunities to volunteer and work with elephants. Kindred Elephant Sanctuary, Chaing Mai, Thailand, allows volunteers to come and help bring elephants back into their natural habitat and observe their natural behaviors in their home environment. Recently graduated university science students can do an Elephant Research Internship through Kindred Spirit Elephant Sanctuary, getting practical work experience with elephants. This way, we can all contribute to preserving wildlife.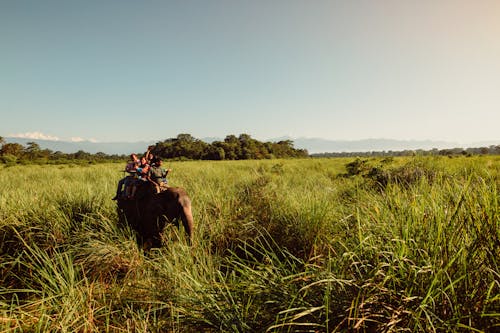 Visit the Island of Sumatra, ride with The Elephant Flying Squad, and observe how these amazing animals take care of their wild friends, gently guiding them back into their natural habitat. Getting to know the individual elephants, their charming personalities, and unconditional love and affection for their humans – and conversely – is an experience I will never forget.