20 POPULAR SUMATRAN STREET FOODS
Sumatra, the largest Ireland in Indonesia, is an island of jungle, wild animals, wild rivers, and an unforgiving climate. The friendly people of Sumatra offer an array of spicy exotic dishes, loads of delicious seafood and tropical fruits. Their food is always fresh and cooked from scratch, blending the rich flavours of spices themselves. As I walk through the streets of Sumatra's villages and cities, the smells of exotic spicy dishes waft through the air.
Active volcanoes and hilly rainforests dominate western Sumatra. The colourful city of Bukittinggi is a wonderful place to explore, as well as the villages and culture of the indigenous Minang people. The steep curved-roof architecture of their houses is seen throughout the area.
Due to the heavy tropical rainfall, especially during monsoon season, high pitched roofs help to prevent leeks, allowing the heavy rains to wash off the roofs. The large overhanging eaves help to keep the rain out of the houses, as well as providing shade for the house, as the tropical heat can be rather relenting.
Padang food or Minang food consists of Gulai (curry), Lado (chilli pepper) and Bareh (rice). It is the cuisine of the Minangkabau people of West Sumatra and is among the most popular food to eat. Many locals prefer to eat rice by hand along with the dishes that are served with it. They believe Padang food tastes more delicious this way, but I use a spoon and fork.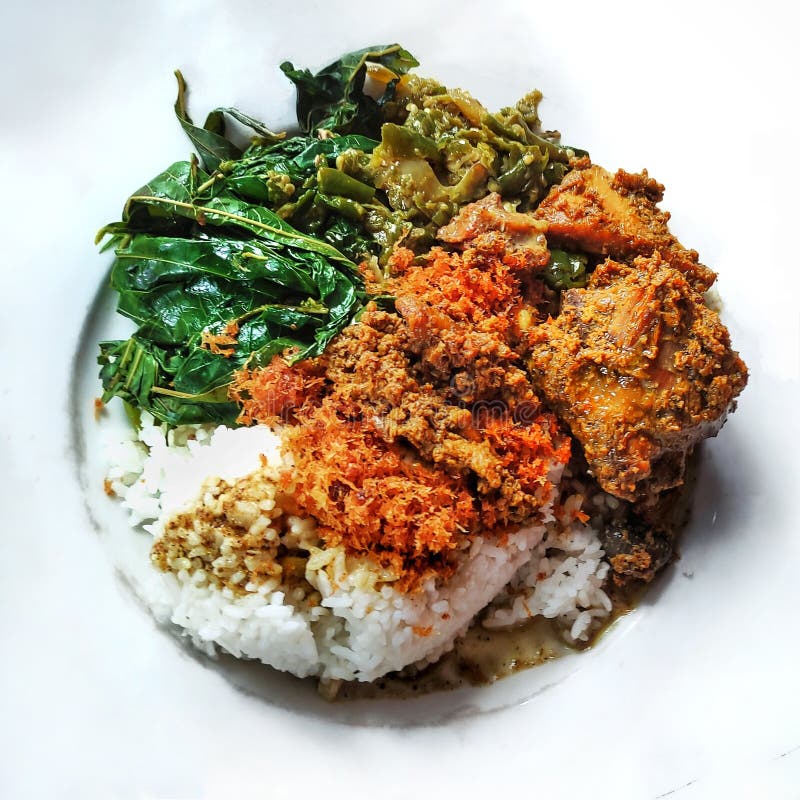 Nasi Padang is one of the best tasting foods from Indonesia
Restaurants in Masakan Padang are easily identified be the way they present their food. Plates are carefully piled for dry food, and juicy dishes like curries are placed in big metal bowls or trays. Plates are displayed in the shop window and visible from the street. Most of these restaurants are open from morning till evening, serving the food throughout the day. The food is served at room temperature and the rice is kept warm.
Masakan Padang cuisine's most popular curry is made with unripe jackfruit (gulai Nangka) cooked with coconut milk, creating a rich delicious curry with a mix of sweet, spicy and fresh flavours. This food is also sold at the local markets.
Hidang is when all the dishes available are served in small plates that are placed at the table, sometimes amounting to ten different dishes. At the end of the meal, you just pay for what you have eaten. This is a popular way to eat when there is a group of people, family, or friends, as the portions served are much bigger.
Medan being Indonesia's fourth-largest city after Jakarta, Surabaya and Bandung, and the largest Indonesian city outside of Java, is located on Sumatra's northern coast. Batak and Chinese culture blend seamlessly in its beautiful architecture and in its mouth-watering cuisine. Chinese fried noodles are served with a variety of chicken, pork, shrimp, squid, and scallops. Chewy and thicker rice noodles are used instead of regular noodles made of tapioca.
Durian pancakes, a controversial food with a taste and smell to be desired, i can assure you, is loved for its sweet and bitter taste as well as its fragrant aroma. The cake is called 'Bika Ambon', it's not originated from Ambon which is a city in the far eastern part of Indonesia. It's not clear why it is called this, but this chewy and sweet cake is good to eat while it is hot, but also perfect when cold.
North Sumatra is the home of the "Batak" tribe. They have their own delicacies, including the most popular delicious dish 'Babi Panggang Karo', or 'Karo Roasted Pork', which is a local style of pork barbecue. The meat is crunchy, sweet, and served with steamed yam leaves, and green chilli sauce, as well as 'tauco', a sweet and salty red sauce made from fermented soybeans.
Another delicious dish is 'Bihun Bebek', a rice noodle dish mainly served with duck, instead of chicken or shrimp. They are the thinnest and softest type of rice noodles that can be found in many Chinese restaurants in Medan.
Palembang, the capital of Indonesia's South Sumatran province, is a port city on the Musi River. The floating colourful markets and houses on stilts are spanned by the Ampera Bridge.
The fabrics of the Batak people are woven in bright colourful jewelled colours.
Tekwan, a traditional Indonesian fish ball soup, is believed to originate from the city of Palembang. The tekwan fish balls are made with fish paste, tapioca, and flour, then boiled or fried before being added to the soup. Usually it is fish or shrimp-based with mushrooms, dried lily flowers, with slices of jicama, garlic, and scallions which are served with the soup. Some varieties of the fish soup also include vermicelli noodles and other vegetables.
Sate, a dish from Padang, West Sumatra, is traditionally made with beef, consisting of pieces of marinated meat or offal, skewered and grilled. These are served in a thick, brown-coloured sauce, combined with meat broth, thickened with rice flour or rice water, and various spices, and served with ketupat (rice cakes).

Other varieties of sate including the Panjang version has more turmeric creating a vibrant yellow sauce, and Pariaman has more chilis giving it a typical red collour.
Rendang, a delicious Indonesian meat dish originates from the Minangkabau people in West Sumatra. Famous for its spiciness and long cooking procedure, often compared to Indian curry because of its unique flavours.

The theory about rendang, was that the generous use of spices and long cooking hours helped to preserve the meat in Indonesia's hot tropical climate. So the need to preserve meat for longer periods began among the Minangkabau people.
Aceh, named after its place of origin, Mie Aceh, is a spicy noodle dish in the form of a soup, topped with fried shallots, cucumber, and crackers. In addition to thick yellow noodles, it consists of beef, lamb, or seafood, as well as spring onions, garlic, bean sprouts, cabbage, and tomatoes.

The dish is generously seasoned with a spicy blend of chili peppers, shallots, garlic, cardamom, and cumin, and is commonly sold by street vendors or at hawker-style restaurants.
Pempek, a traditional Indonesian fish cake made with ground fish meat and tapioca, originates from the city of Palembang, in the South Sumatran province. The story goes, an old Palembang man who was tired of the traditional fried or grilled fish, thought of an innovative way to ground the meat, mix it with tapioca flour, and deep-fry it to get a crunchy and delicious snack.

He would then cycle through the city selling the fish cakes to Palembang citizens. Over time, pempek was recognized as a praise-worthy snack, and today it is a traditional Indonesian delicacy. These round or rectangular cakes are usually steamed, then just before serving, fried in vegetable oil, and cut into bite-sized pieces. 
Laksan is another dish made from a mixture of ground fish meat and sago flour. This dish is usually eaten during religious festivities. The dough is shaped, boiled, and drained then finally simmered with coconut milk and some spices, consisting of chilies, shallots, garlic, bay leaves, and galangal. Sprinkle it with fried shallots, to make it more flavourful.
Kemplang, a type of fish cracker made from the same fish dough, is boiled, thinly sliced then dried in the sun. The chips are fried to a crisp and served with soupy dishes or fried noodles.
Makuba cake, a favourite dish among the Palembang people, has a fluffy, delicate texture and the flavour is sugary, yet luscious. Duck eggs and condensed milk are used to create the primary layers of this dish, coming together through a slow cooking process of eight hours. This deliciously luscious dessert is often used as an offering and presented in local celebrations.
Mie celor, a typical Indonesian dish of yellow noodles, is doused in coconut gravy and served with shrimp, boiled egg, and bean sprouts. Occasionally topped with celery, spring onion, chicken, and fried shallots.
Martabak har, both legendary and phenomenal, is unlike other typical egg dishes. It is soaked in a curry gravy, a yellow broth comprising of turmeric, nutmeg flower, cinnamon, chilies, curry leaves, diced potatoes, and coconut milk. A vinegar sauce can also be added for a variation in flavour.
Kue srikaya, an egg-based cake found throughout Palembang and traditional markets, is made from a batter of eggs, sugar, and coconut milk, and has sweet and savoury flavour. The green colour is obtained from aromatic pandan leaves which the cake is put into and steamed for about fifteen minutes.
Celimpungan, also very similar to tekwan, is bigger in shape. It is simmered in a coconut milk gravy with turmeric, pepper, and bay leaves giving the dish an enriching flavour.
Model, a soup dish, consists of fish balls, rice vermicelli, and aromatic clear shrimp broth. Sometimes including ear mushrooms, cucumber, prawns, fried shallots, and served with vinegar sauce.
Although Palembang's food comprises mainly of fish dough, coconut milk, and vinegar sauce, it is still delicious.
My favourite dishes consist of spicy, chilli, juicy plump prawns served on basmati rice, and covered in a delicious aromatic spicy sauce. Freshly caught fish and large fresh water prawns cooked over a fire, along with an assortment of smaller dishes consisting of spicy vegetables and other delicious delicacies. Indonesia is certainly the spice centre of rich flavours.